Primavera P6 Professional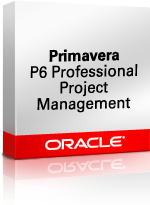 Primavera P6 Professional Project Management gives today's project managers and schedulers the one thing they value most: control. Primavera P6 Professional Project Management, the recognized standard for high-performance project management software, is designed to handle large-scale, highly sophisticated and multifaceted projects. It can be used to organize projects up to 100,000 activities, and it provides unlimited resources and an unlimited number of target plans. Massive data require sophisticated, yet highly flexible organization tools to provide you a multitude of ways to organize, filter and sort activities, projects, and resources. In addition, Primavera P6 can be integrated with most financial and HR systems via EcoSys EPC, an easy-to-use, web-based enterprise project controls software platform.  It features best-in-class integration for bringing together schedule, cost, and other vital project data to form a "single version of the truth" for greater speed, accuracy, and efficiency in reporting.
Primavera P6 Professional is used by more major companies than any other scheduling software and is compatible with Primavera P3, Primavera SureTrak and Microsoft Project. Scheduling data can also be exchanged with Microsoft Excel. In our advanced classes we demonstrate how to import baseline and update information directly from Microsoft Excel. Team members who do not have access to Primavera P6 Professional can still collaborate with P6 users. The flexibility and compatibility of Primavera P6 Professional cannot be matched by any other program.
The prices listed below are for electronic downloads in the United States and Canada. While Primavera P6 Professional can be purchased on CD-ROMs for an additional $90, sales tax must be collected on the entire purchase. Delivery of the software also requires 7 – 10 days.
Primavera Scheduling will guide you through the download and installation process. Primavera Scheduling recommends Release 8.3 which is the most recent release (March 2013). Click here to see what is new in the latest release.
Why buy from Primavera Scheduling?
No waiting. Instructions from Oracle for downloading Primavera P6 Professional take 1 to 2 days. Primavera Scheduling will get you started the same day that payment is received. This personal touch is simply not available from the big software vendors who sell dozens of programs. We only sell Primavera P6!
Professional guidance. Oracle's software delivery cloud can be a little daunting to new users. We will guide you every step of the way. We will make sure you download and install the correct software for your machine.
Training discounts.

Anyone

who purchases Primavera P6 Professional software from Primavera Scheduling receives a 10% discount on all live online and in-person classroom training programs. This discount is good for one year after purchase.
We are Oracle Certified Primavera P6 Sales and Implementation Specialists, with the knowledge and experience to help you make the right decisions for your business.
If you experience problems with PayPal processing your payment and you are using Internet Explorer, please try using Google Chrome or Mozilla Firefox instead. If you continue to have problems, please check with your credit card company to verify that third-party transactions can be completed using your credit card. Finally, if you continue to have problems, please contact us via e-mail or via telephone (916-779-4145) for assistance. All software sales are final. Thank you!
There is more than one version of Primavera P6 although pricing is the same. The newest version of Primavera P6 is Release 8.4 as of September 2014. P6 Professional R8.4 introduces a new database option, SQLite, which is considerably easier to install compared to the other databases compatible with P6 Professional. The new features are explained in more detail here.
Educators: please contact us for special term pricing.
Primavera P6 Professional + Oracle Support
List Price: $3,050
Our Price: $2,475