Oracle recently released Version 8.3 for both P6 Professional (PPM) and P6 Enterprise (EPPM). Today we will be discussing changes to P6 Professional.
Visualizer
Visualizer is a new feature that supports graphical reporting via customizable Gantt charts and timescaled logic diagrams (TSLDs). The TSLD was initially introduced with Version 8.0 and is now replaced by Visualizer. One of the advantages of a TSLD is the ability to show more than one activity on the same line, which reduces the height of the logic diagram considerably.
In addition to the P6 Professional's standard graphical features, Visualizer adds the following features:
Stack columns and use word wrapping in the Gantt chart
Use notebook topics or a list of steps as a bar label or as a field in the activity table
Apply various fonts to individual labels and fields
Color-code and apply different shapes for bars and endpoints
Draw bars on top of each other, for example, to show critical highlighting
Visualizer is a desktop application that can be launched either from within P6 Professional or from the computer's start menu. It connects directly to the P6 database. This marks the first time users have been able to view project data without launching P6.
After launching Visualizer, users can choose to create or open a TSLD or Gantt chart. Users can also print and manage layouts from inside Visualizer. P6 Professional layouts or Visualizer layouts created by other users can even be imported.
The Gantt chart includes a grid and a bar chart. The grid displays activity information in a table format, similar to the Activity Table in P6 Professional. On the Chart & Grid tab in Layout Options, display the Gantt chart, the grid, or both.
The screen below shows an example of a TSLD in Visualizer with multiple bars per row and critical activities coded in red: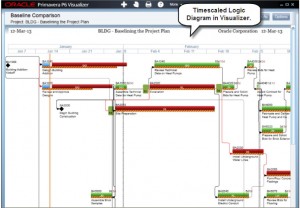 Discussion Feature
Previously we had the ability to track comments about activities using the Notebook tab in the Activity view. Version 8.3 adds a new Discussion feature that tracks these comments by team member. All comments are dated and labeled with the contributor's name. Similar to Notebook comments, Discussions are stored electronically with the activities. This is a nice tool for encouraging dialogue and feedback on activities.
Also, we can now add a column called "Unread Comments" to the Activity Table to prompt team members to review the most recent Discussions. Notebook comments, by comparison, can only be shown as a label on an activity bar and do not appear in the Activity Table.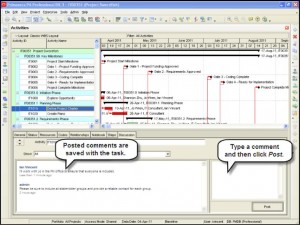 XML Import/Export Enhancements
P6 Professional Version 8.3 provides a number of enhancements to its XML import/export functionality. Users can now exchange XML project files with previous versions of P6 Professional from Version 6.2 Service Pack 4 (SP4) onward. Also, all features supported by the P6 Professional XER format (constraining of external relationships during import, inclusion of Price/Unit in resource assignments, etc.) are supported in XML format as well.
P6 Professional Version 8.3 also gives users the ability to import or export multiple projects simultaneously. When exporting multiple projects, the projects are combined into a single XML file. Importing multiple projects requires the projects to be contained in a single XML file.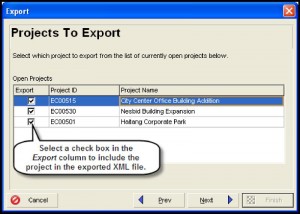 Bottom Line – Worth an Upgrade?
Users who have a current support agreement with Oracle can upgrade to Version 8.3 for free. Otherwise, you will have to pay full price to get the newest version. Version 8.3 does have some nice enhancements but they are not worth buying a new license. The TSLD still does not show relationship lags – only the relationship types – despite several upgrades since it was first introduced. Users have been asking for this feature for quite a while. Of course, the Gantt chart does not show the lags either so we will have to wait until, perhaps, Version 8.4 is released.
In the meantime, we will be testing Version 8.3 for bugs. Versions 8.1 and 8.2 tend to crash more often than Version 7.0 (our favorite) so reliability is always a concern. The casual user of P6 would not miss the enhancements found in Versions 8.1 and 8.2 so it once again comes down to whether a free upgrade is available. Certainly, new users should consider Version 8.3 as there is no discount for buying older versions and Version 8.3 is backwards compatible with earlier versions of P6 Professional.